Arenal Volcano

Hotel

(Best View)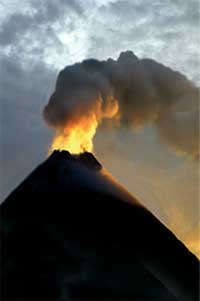 Arenal Volcano Inn
Arenal Volcano is one of the main attractions in Costa Rica because its one of the most active volcano in the world. In the Arenal Volcano area are some of the finest hotels and lodges of Costa Rica. In this region you will find hotels of all price ranges. This website includes two- to four-star hotels and lodges, which will give you a wide choice. We offer accommodation in La Fortuna from were you will have easy access to restaurants and public transportation. We can also arrange hotels in the Arenal Volcano Area from were you will have a magnificent view on the Arenal Volcano. From there, you are close to the famous Tabacon Hotel Hot Spring Resort and the Arenal Volcano National Park. If you wish to stay on the south or east side of La Fortuna, this site also includes hotels that are located in the surrounding of the Arenal Volcano Area, from were you are close to the La Fortuna Waterfall, one of the most impressive waterfalls in Costa Rica. Take a look at the following hotels and lodges; we are sure that you will find one hotel that will meet your wishes and needs to complete your Costa Rica trip.
Arenal Volcano Hotels





Arenal Volcano Inn

Hotel

Hotel Kioro
Tabac

o

n Resor

t Hotel

Monta

n

a de Fuego Resort

&

Spa
Lost Iguana Resort
Jungla y Senderos los Lagos
Arenal Para

i

s

o Hotel

Volcano Lodg

e Hotel

Lavas Tacota

l Hotel

Arenal Lodg

e Hotel

Arenal Springs
Hotel Arenal Manoa
Silencio del Campo
Miradas Arenal
Lomas del Volc

an Hotel

Arenal Ross

i Hotel

La Prader

a Hotel

Arenal Vista Lodg

e
Surrounding Arenal

Volcano

Area Hotels
Arenal Country Inn

Hotel

Las Caba

n

itas Resort
Cataratas Resort

Hotel
Downtown La Fortuna Area Hotels


Here to see the lastest and an archive for the news of Liberia Guanacaste, Costa Rica.