General Information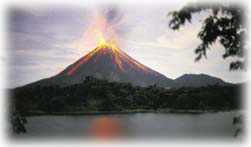 Although the main attraction is the Arenal Volcano; the area offers much more. Next to the volcano is the Arenal Volcano National Park with a wide variety of flora and fauna and a great view on the volcano. Furthermore there is La Fortuna, which is the nearest town. In addition, if you have seen the volcano, there are several other activities and interesting places that can be visited in the area.

First of all, the main attraction; Arenal Volcano. Arenal Volcano is a perfectly shaped cone of more than 1,600 meters. It is also known as the "Arenal Peak" , "Pan de Azúcar", "The Costa Rica", and the "Río Frío Volcano. It is considered as the most active volcano in Costa Rica. Almost every night the volcano gives a spectacular show of lights and orange lava flows with its explosive eruptions. During the day you can feel and hear the volcano explode which is already a spectacle on itself.

For a scenic hiking trail and view on the volcano, you can visit the Arenal Volcano National Park. There is an observatory site located in the park from were you have a beautiful view on both the volcano and the Arenal Lake. There are also several hiking trails which you can explore on your own.

La Fortuna Town is totally focusing on satisfying the needs of the visitors of the Arenal Volcano. In this town you will find ATMs, supermarkets, a post office and internet cafes. You can also find restaurants and hotels from all price ranges.

If you want to do something more adventurous or you want to see other places of interest in the area, you can go on one of the many half day and day trips that are being offered. These range from adventurous ones like rafting and horseback riding to a relaxing visit to the Caño Negro Wildlife Refuge or the La Fortuna Waterfall. In short, there is enough to see and to do in this fascination and beautiful region.
About Arenal | National Park | La Fortuna Town | Places of Interest |
Articles about Arenal Volcano | FAQ's about Volcanoes | Daily News about Arenal Volcano