Arenal Volcano Hanging Bridges
This amazing project is located in a wonderful rain forest preserve with 250 hectares protected land.

You can go into the natural paradise along walking trail of three kilometers passing 15 bridges, six of them are hanging bridges with an spectacular design as a secure – enjoyable adventure to see the forest from the ground (like a Jaguar) from the middle (like as Monkey) and from the treetops (like an Eagle).

One of our hanging bridges is called The Waterfall Bridge and is over 60 meters high off the ground. Another one is called The Tyra Bridge and is 98 meters long, just to give you an idea.

In this heaven of nature you can find over 250 species of birds, including some like: The White Hawk, Great Curassow, Rufous Motmot, Rufous-tailed Jacamar, Black-throated Trogon, and many others.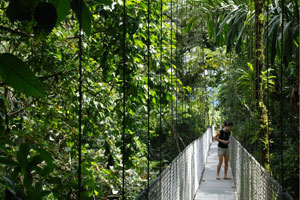 Many reptiles like the: Fer-de-lance Snake, Boa Constrictor, Basilisks Lizard, Glass Frog, Poison Dart Frog. Amazing mammals like: Howler Monkeys, Spider Monkeys, Tyras, Coatimundis, Three-toed Sloths, White-collared Peccary, Thousands of beautiful insects like: Butterflies, colorful Beatles, amazing Leaf-cutter Ants, or the artistic Web-making Spiders…
One of our major attractions is the Night Walk where you can see a lot such as Olingos, Kinkajous, Bird-eating Tarantulas and beautiful Coral Snakes. As well, once you´re at the Pilón Bridge get a perfect view of have a perfect perspective to see the lava flow from Arenal Volcano… straight ahead… from the treetops!
That's just the animals, but the diversity of trees plants like, Orquids or Elephant Ears is tremendous and incredible.