Arenal Volcano, La Fortuna

This site will give you all the necessary facts about volcanos and provide you with information about hotels and lodges in the Arenal Volcano and La Fortuna Town area. Regardless if you want to stay in a two or five star hotel, go on an adventurous tour or spend the day in a relaxing and luxurious resort, you can find it in this beautiful part of Costa Rica.

Whether you decide to stay in a hotel in La Fortuna Town like the San Bosco Hotel, Arenal Jireh Hotel, Luigi's Lodge, or near the volcano like the Arenal Volcano Inn hotel, Arenal Observertory lodge, Arenal Paraiso hotel or the Tabacon Resort Hotel, we have the hotel for you. We can also arrange tours and a rental car for you to make sure you will have a memorable time in one of Costa Rica's most beautiful regions.
Get to know the area before your visit by looking at the maps and the pictures of the Arenal Volcano and read its history in our general section. Plan your Costa Rica vacation and research it here. Make yourself comfortable and prepare yourself for an imaginary trip to the mysterious world of Arenal Volcano.
More Arenal Volcano Hotels
ArenalVolcano.com offers information on cabins, cottages and accommodation in Arenal, La Fortuna de San Carlos. Hotels near Arenal Volcano, mountain hostels in Costa Rica.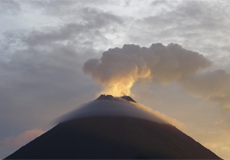 Watch the video of Arenal Volcano and more...
Arenal Volcano Video
Arenal Volcano is by far the most active volcano in Costa Rica and one of the most actives in the world with daily small eruptions. This makes the area of Arenal and La Fortuna a fascinating tourist destination that attracts foreigners as well as residents of Costa Rica.
Check weather in Costa Rica and Arenal Volcano Area